Post by fabi on Dec 17, 2014 21:44:07 GMT
Overview
The App provides a UI to configure and work with the Thanos Board directly from the computer.
The App does config changes on the Thanos Board via the CLI.
Minium required Firmware
enc_6dof1l_1280servo_id_hipid_CMD_01.hex
(--> reach out to Thanos for that version)
Use it at your own risk! Take extra care when using the "Auto Tuning Tab" as this moves your platform!www.dropbox.com/s/7o1q29tonzyjm8x/FabisThanosBoardConfiguratorv0.4D.exe?dl=0


Run Tab
Allows to select a Profile (contains entire Thanos Board configuration) to be pushed with one click on the Board.
Lower part section allows to bring the App into a proxy mode (insert between any motion software and the Thanos board using additonal com ports and nullmode cable) to record motions sequences and also replay motion sequences (good for troubleshooting to isolate whether problems are coming from the motion software or the hardware)
Configuration Tab
Legend:
1. Sliders and Checkboxes are setting the values on the Thanos Board. Upon mouse or key release (up event), the values are set on the Thanos board.
2. Alles to save the actual configuration into the EPROM, making sure config is still there after booting the board.
3. Shows the actual values set on the Thanos board. When sending a configuration value to the board, the board returns it in the acknowledge which then will get displayed here.
4. Section allowing to send CLI commands directly to the board, use "list Commands" to display all availble commands in section 6. Use List values to display all the thanos board configuration in section 6.
5. Is a monitor window showing all the actions/events sent to the Thanos board (latest on top)
6. Is a monitor window showing all the events received from the Thanos board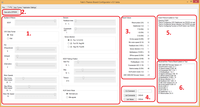 Auto Tuning Tab
<work in progress>
Will allows to auto tune PID. For now it allows to move the plattform and reads back the sensor position (what will be needed for auto tunning)
.
Currently it send motion data and receive position back from the sensors.
Application Settings Tab

In the left section all availble COM ports (RS232) are getting displayed. Select the COM port by clicking on a listed port representing the Thanos board. If you are not sure which one it is, start the App without the Thanos board connected, remember all the listed COM ports. Exit the App, connect the Thanos Board and start the App again. The new appearing COM port is the one from the Thanos board.
Upon selecting the COM port, the App opens the COM port and reads all configuraton values from the Thanos Board and sets the slides and radio buttons accordingly.
A checkbox below allows to chache the COM port in the App and open it immediately at App start.
From the right side App config files can be imported (containing Profiles etc.) (not yet enabled)